Build&Battle
A downloadable Build And Battle for Windows
Build&Battle
..is a turn-based tower defense with classic rts base building elements.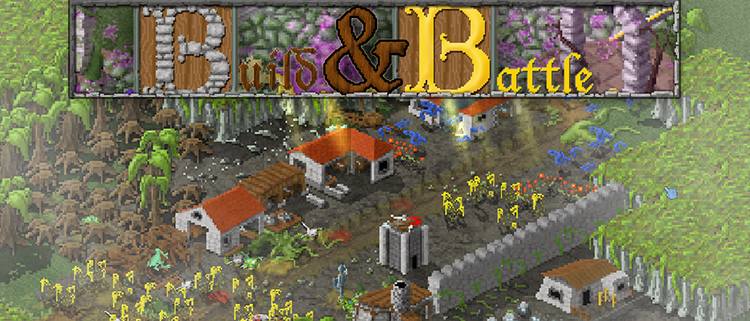 Build your maze of towers, lay out your plan of attack and execute it with the next turn.

Build&Battle plays in a fantasy world where a kingdom suffers the fate of losing their energy crystal that protected them for hundreds of years.
With the crystals final pieces shattering to the ground it releases one last burst of energy opening portals to other worlds.
You have to enter this portals and find out how to restore the crystal of power.

Singleplayer campaign
Travel through a jungle on an unkown world and master your arsenal of towers and upgrades in a few lengthy levels.
Tower defense - turn based strategy mix
Many enemy types that require different strategies to overcome
Action points ability system
Base building, economy management and tower upgrades
Teaser Trailer
Status

Game
The swamp campaign is playable with its worldmap and around seven levels.
Save feature works. Saves automatically on the worldmap, not during game sessions. (Intended) To reset your progress, delete the save file under Users\"YOURNAME"\AppData\Local\StrategicDefense
A lot of things are work in progress, such as the world map
The game should run without many bugs though, at least i can't recreate any crashes lately.
Can't finish campaign, you can only win the last level and that is it
There is no real option screen yet
Development
Build&Battle is released as first access to gather feedback on or if to continue to project.
I developed the game completely by myself and don't have the funds to continue so i need feedback and support.I have big plans for the project, but developing it in my free time is just to time consuming and to inefficient.
The game is being developed with Gamer Maker Studio 1 and was originally released to Steam Greenlight and Indie Gogo Crowdfunding. It didn't get funded, but it got greenlight at some point.
I was reluctant to release it on Steam Early Acces by now, as expectations to polish are pretty high and it would probably get destroyed.
Important
If Windows tells you to not execute the file, just click on more information and run anyway. It is just cautios with single exe files, especially in folders like "downloads".
How to play
Keyboard and Mouse
Select a level on the world map and click the portal at the buttom right to enter the map.
Click the build menu button or click on the ground to activate the build menu
Build structures like towers and resource gathering.
Click end turn button at top left or press 'SPACE' to end your turn, watch as the enemy spawns units and your buildings are getting constructed.
Gather an action point every round, spend on tower abilities to do extra damage, get extra range or instantly build or upgrade buildings.
Win a level by defeating all enemies.
Losing lifes when enemies get through your portal affects the whole campaign.
You can play a level multiple times to win with less lifes lost.
Winning a level rewards you new technology.
Controls
'ALT' toggle to info mode, see health bars and very important tower attack info (Who will get shot next turn and what health remains, use for tactical planning)
WASD or press middle mouse button to pan camera
ALT + F4 to exit game
ESC to return to worldmap
F11 for fullscreen toggle
F12 for screenshots (Gets saved into save folder location)
Download
Click download now to get access to the following files:
Build&Battle Game Files
28 MB